Chicago, June 26, 2017: Cunningham, Meyer & Vedrine, P.C., announced today that Daniel "Dan" Mills and Robert "Bob" Sidkey have joined the firm's professional liability, healthcare and civil defense practice in its Chicago office. With these additions, the firm now has 32 attorneys whose practice spans state and federal courts throughout the Midwest.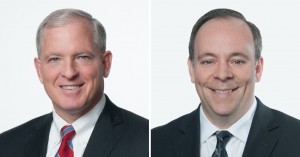 Dan Mills joins as a shareholder. He has approximately 30 years of experience handling a variety of cases in state and federal court. Dan has developed a unique skill set that has proven invaluable to his clients in the courtroom. He has successfully defended a range of professionals at trial, including neurosurgeons, obstetricians, ophthalmologists, plastic surgeons, and anesthesiologists. In addition, he has successfully defended hospitals, nursing homes, and assisting living facilities. This experience has led to regular requests for Dan to lecture to physicians and the long-term care industry.
Bob Sidkey joins as a partner. He has successfully represented physicians, eye care professionals, hospitals, long-term-care facilities, an international airline and property owners. He has also represented clients in employment law matters and automobile and snowmobile accident litigation. In his years of practice, Bob has taken dozens of cases to trial including cases to verdict in the Circuit Court of Cook County and the Illinois Human Rights Commission.
"We are delighted to have Dan and Bob join us and bolster our top-notch firm of dedicated trial attorneys" said Mike Slovis, Managing Partner of the firm's Chicago office. "Both have achieved the highest level of professional accomplishment and share our commitment to advancing and protecting the interests of our clients, as our firm has done for more than two decades.
With offices in Chicago and Warrenville, IL, Cunningham, Meyer & Vedrine has focused its practice on the representation of medical, nursing and healthcare providers in professional liability cases. Cunningham Meyer & Vedrine represents not only physicians, but a variety of institutional defendants, including community based and tertiary care hospitals, standing ambulatory centers, healthcare clinics, nursing and allied health professionals, and a variety of healthcare associations. The firm's dedication to this area of professional practice has yielded an unmatched depth of understanding of the intricate issues involved in professional liability cases.